Fiona is a Bristol based professional musician who trained classically and after touring Australia with a symphony orchestra defected to the other side, following a love of traditional music and playing on the west coast of Ireland for several years.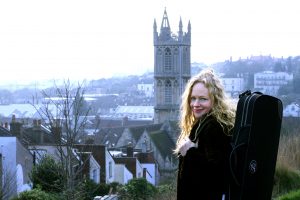 She made a living as street performer travelling across Europe as a solo act and with various outfits including Tragic Roundabout, Fiasco di Casino and Swervy World. She toured with the Doppelgänger Gypsy Orchestra playing at Topkapi Palace in Istanbul, Skopje festival in Macedonia and the International Arts Festival in Tuzla, Bosnia.
Theatre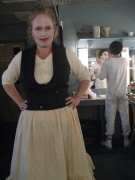 After moving to Bristol she toured with Travelling Light Theatres award- winning show 'Into the West' including a sell- out run on Broadway, and Dublin Theatre Festival. She also toured several shows with Kneehigh Theatre including 'Tristan and Yseult' at Sydney Festival in Australia, Wellington Festival in New Zealand and Spoleto Festival in South Carolina USA.
More recent theatre work includes a run of 'Comus' at the Sam Wanamaker Theatre at The Globe in London.
Dance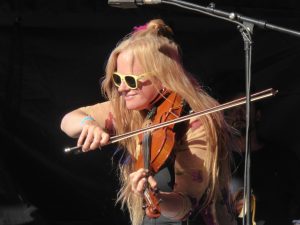 Fiona has worked for many years as a musician for many styles of dance (17th century English, Scottish, American Contra and Square, Appalachian, Irish, Eastern European, hip-hop/ dub- step and grime, contemporary) at Sidmouth, Eastbourne, Broadstairs, Chippenham and many other festivals with The Bristol Players, Playford Liberation Front, Purcell Automatic and accordionists Eddy Jay, and Paul Hutchinson. She toured California playing for american and english dances and appeared at Monte Toyon Festival.
She was musical director and accordionist for the acclaimed contemporary dance company Luca Silvestrinis 'Protein' in their piece '(In)visible Dancing'.
Community Arts
Fiona has worked in a wide range of community arts projects. She was composer and MD for Same Sky Arts touring piece 'Waymarker'.
She composed and performed for many years with 'Acta community theatre company working with young carers, special needs adults, children and older people to create theatre pieces, and also facilitating creative arts and music workshops.
Fiona worked for several years performing concerts for dementia sufferers in nursing homes, day centres and hospitals through the Charity 'Lost Chord'.
She also works regularly with the charity 'Superact' performing in hospitals and day care centres across the South West.
She was the musician for the 'Valise Noire' outdoor community piece Cargo on Poole Quay.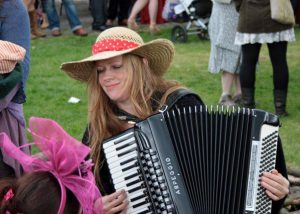 Storytelling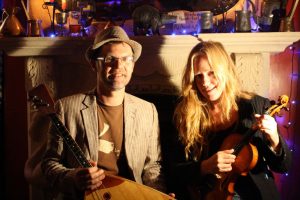 Fiona has worked extensively composing and performing for storytelling shows.
She was musician in residence with storyteller Jane Flood for the Neroche project in the Blackdown Hills in Somerset, creating a unique 300 strong outdoor community event 'Punkie Night', and developing rural touring pieces with Theatre Orchard 'Chimechild' and 'The Chance Come'.
She toured the UK with 'Peter and The Wolf' with teller Martin Maudsley including the Sage Gateshead, St Judes Proms in London, and the International Beyond The Border festival in Wales.
Piaf – The Songs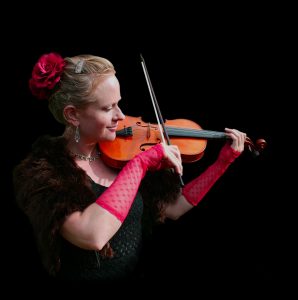 Fiona has been touring for 6 years across the UK, Channel Islands and beyond with the hit show 'Piaf The Songs' with french singer Evelyne Oiseau, including performances at Henley Regatta, Leeds International Concert Season, Edinburgh Festival, and the Holders Season, Barbados. They also played a live session on Radio 3s 'In Tune.'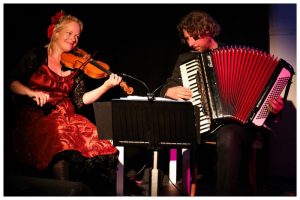 Recording Sessions
Fiona has recorded as a session musician on numerous projects, notably on Alex Stoloffs music for BBC1s 'Attenborough and The Giant Dinosaur' ( also transcribing and MDing strings), and on many recordings for composer Jon Nicholls including on Radio 3 and 4 plays 'Erebus','The Histories Of Herodotus', 'Zen And The Art Of Motorcycle Mechanics',and Toni Morrisons 'Beloved'.
She composed and recorded for West Ones library album 'Cafe Culture'.
Bands
Fiona formed and runs the Improvising band 'The Acousticians' who create entirely original one-off music for each performance.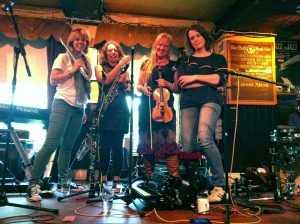 She collaborates with Irish guitarist/ singer Paul Bradley playing traditional celtic music, and also improvised performances.

Ceilidhs
Fiona plays and organises Ceilidh/ Barndance bands for all types of occasions, duo to full 6-piece.
Feel free to get in touch with any questions you might have about having a Ceilidh at your Wedding or event.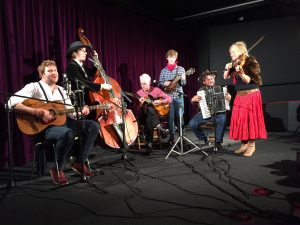 Teaching
Fiona has taught violin/fiddle and accordion to students of different ages and abilities for many years.
Returning adults are a speciality.
 If you would like to discuss having lessons, please get in touch.
fififiddle@gmail.com
+44 (0)7967 505425